Select a Card Templates & Background
Business Card Designer Pro is designed to help you design your card quickly and easily. In fact, Business Card Designer has done half the work for you by providing you with a tons of ready-made templates and background images! Just choose a template and background, then modify your texts and your card is ready.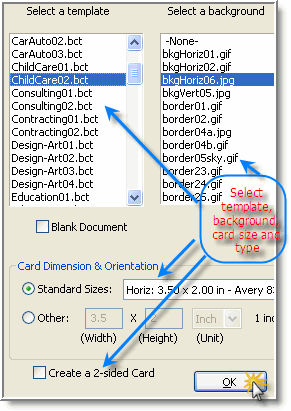 Go to menu File->New, the New Card Template window(as shown) opens up. This allows you to create a new design from a template quickly and easily. You simply choose a template and a background (if desired) from the list. Then choose card size: the drop down supplies you with various types of card size for horizontal and vertical card that are mostly used world-wide. You also choose a custom card size.

Then click OK to get the structure of your Business Card. Now you just need to change the text and your Business Card is ready to be printed.